At Cleaning Expo Fair 2022, PROFESSIONALS DO NOT PAY!
Maintaining cleanliness is an industry with great economic potential that is dynamically developing. In addition to changing the image of the cleaning sector, there are benefits in terms of time savings and increased machine productivity. Automation and digitization processes can support service efficiency, but a well-trained employee will always be the pillar. What changes are still waiting for the cleaning industry? These and other questions will be answered during the Cleaning Expo 2022 fair in Poznań, Poland!
At Cleaning Expo Fair 2022, PROFESSIONALS DO NOT PAY! 
Persons professionally / professionally associated with the professional cleaning industry are entitled to register and collect a free ticket (including owners and employees of companies providing professional cleaning services, distributors of professional equipment, machines and cleaning agents, representatives of the transport sector, including airports and railways, owners and administrators of commercial, medical, institutional, industrial, hotel, gastronomic, sports facilities), on the basis of a completed application form. People from outside the industry are invited to purchase tickets for the general public without registration.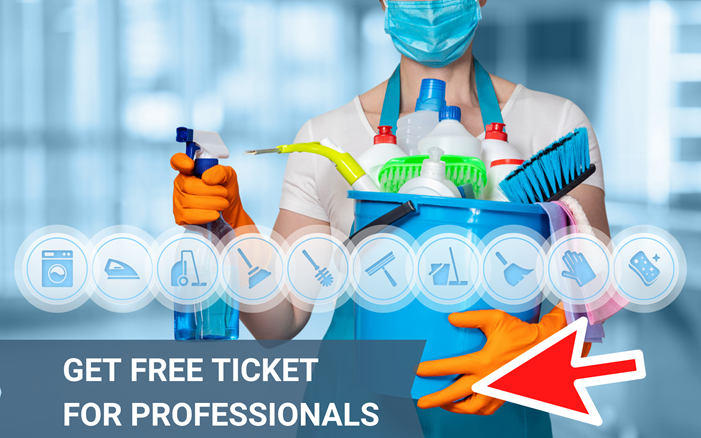 This year's edition of Cleaning Expo assumes a comprehensive presentation of innovations, including new products and technological solutions for the cleaning industry. The exhibitors will present: Cleaning machinery and appliances, Operating tools, Machinery for maintaining cleaning adjacent areas, Hand-held cleaning equipment and accessories, Equipment and accessories for cleaning façades, roofs and adjacent areas, Chemical agents for cleaning, care and maintenance, Disinfectants and disinfection equipment, OHS solutions for the cleaning industry, Equipment, accessories and protective equipment for emergency situations (e.g. pandemic), IT systems for the cleaning industry, Professional cleaning service providers.
The Cleaning Expo trade fair is the most anticipated meeting of professionals in the field of broadly understood cleaning and at the same time the best place to learn about the latest trends and solutions that will be able to provide the sector with stable conditions for further development.
Professional Cleaning Fair CLEANING EXPO
4-6.10.2022, MTP, POZNAŃ, POLAND
Opening hours:
04.10.2022.  / Tuesday / 10:00 – 17:00
05.10.2022. / Wednesday / 10:00 – 17:00
06.10.2022.  / Thursday / 10:00 – 16:00