Cleaning Expo 2022 - a celebration for the entire cleaning industry
The CLEANING EXPO Professional Cleaning Fair will start at the beginning of October 2022 in Poznań. Participants will be able to get information on housekeeping management, in such industries as: medicine, hotel industry, industry, trade, gastronomy, sport, education and transport.
In many residential, offices, sports facilities, production halls, warehouses or medical facilities, the highest diligence and quality related to maintaining cleanliness and hygiene should be observed. Therefore, it is worth updating your knowledge about the current market situation, familiarizing yourself with forecasts and cooperation strategies prepared by experts, and seeing live exhibitions of manufacturers of cleaning machines, equipment, professional cleaning and disinfecting agents, manual tools and cleaning accessories.
Cleaning Expo Fair is about to:
building business relationships
networking
new directions and development opportunities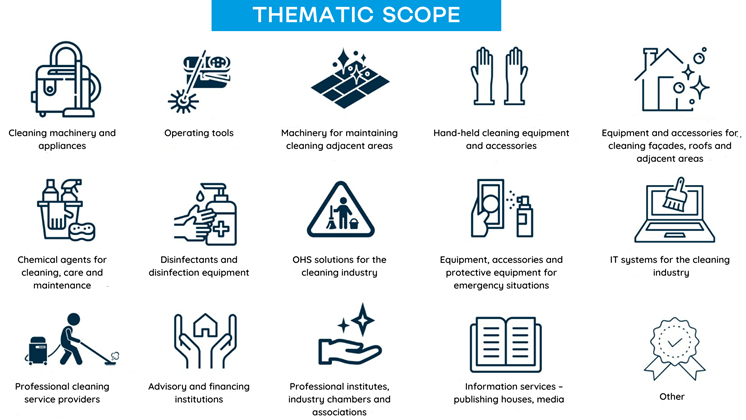 The thematic scope of the Cleaning Expo fair:
Cleaning machinery and equipment
Operating tools
Machinery for cleaning adjacent areas
Manual tools and accessories for cleaning
Equipment and accessories for cleaning façades, roofs and adjacent areas
Chemical agents for cleaning, care and maintenance 
Disinfectants and disinfection equipment
Health and safety solutions for the cleaning industry
Equipment, accessories and protective equipment for emergency situations (e.g. pandemics)
Information systems for the cleaning industry
Professional cleaning service providers
Consulting and funding institutions
Institutes, chambers and trade associations
Information services - publishing houses, media
Other (closely related to the cleaning sector)
FEEL INVITED!
October 4-6, 2022 | Poznan International Fair