Enter the clean world of business - we are launching the Professional Cleaning Fair - Cleaning Expo 2022!
Drawing knowledge from professionals in the cleaning industry can lead to a dramatic improvement in cleaning standards in many facilities (residential, office, sports, production halls or warehouses, medical establishments). You are therefore encouraged to participate in Cleaning Expo 2022 - it will provide participants with a number of benefits that may significantly improve the operation and the image of the company, while the information gained will enable you to make significant savings.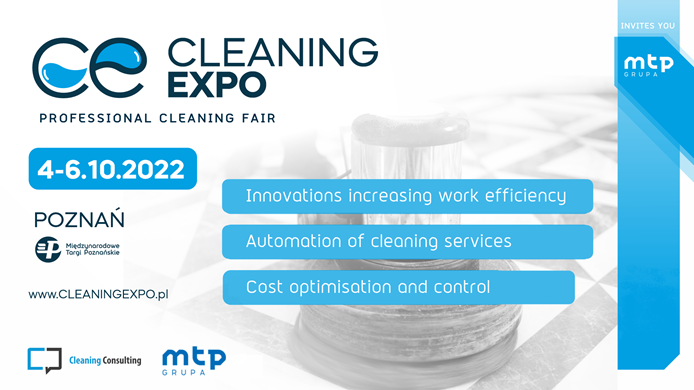 Grupa MTP and Cleaning Consulting would like to invite you to the Professional Cleaning Fair CLEANING EXPO. It is the first event of this scale in Poland, which aims to present and integrate the cleaning industry. The fair which will take place from 4-6 October 2022, will provide a platform for the exchange of ideas and experience. We invite you to Poznań, where we will jointly create the future of the professional cleaning sector!
- The value of the professional cleaning industry is estimated at over PLN 6.5 billion. It comprises over 3.5 thousand companies employing thousands of people. Due to such a large number of enterprises, the industry shows, high fragmentation on the one hand, and high competitiveness on the other. These conditions are the reason why the MTP Group and Cleaning Consulting have come up with an initiative of the CLEANING EXPO 2022 Professional Cleaning Fair - a platform for the exchange of services and goods, as well as the integration and discussion within the sector - Jolanta Sergot-Kowalska, oner of Cleaning Consulting and co-organiser of Cleaning Expo 2022 says. 
If your institution cares about:
cost optimisation and control,
learning about innovations that will increase work efficiency,
implementing automation of cleaning services,
the Professional Cleaning Fair, CLEANING EXPO 2022 in Poznań is the ideal space to get answers to these questions.
For all professionals
We would like to invite representatives of the transport sector (including airports and railways) as well as owners and administrators of the following facilities: commercial, medical, institutional, industrial, hotel, catering or sports, to Poznań on 4-6 October this year for the only event of this size in Poland gathering the cleaning sector. This is where market leaders, industry experts, manufacturers of equipment and cleaning products will meet - professionals with whom you can talk about professional cleaning, disinfection or the implementation of modern hygiene standards. CLEANING EXPO will present a comprehensive overview of products, systems and processes which will ensure the top quality that a professional cleaning service must meet in specialised buildings or public spaces.
In many residential, office and sports facilities, production halls, warehouses or medical establishments, the utmost care and quality associated with cleanliness and hygiene must be maintained. Therefore, it is worth updating your knowledge on the current market situation, reviewing forecasts and cooperation strategies prepared by experts, seeing live exhibitions of manufacturers of cleaning machines, equipment, professional cleaning and disinfecting agents, manual tools and cleaning accessories.
The only event of its kind
The CLEANING EXPO fair to take place from 4-6 October 2022, is the only event of this size in Poland bringing together the cleaning sector. This is where market leaders, industry experts, equipment and cleaning product manufacturers, professionals and persons taking their first steps in this business will meet. It is the place for anyone who would like to improve and develop their qualifications, meet new business partners, contribute to the disappearance of unfair practices on the Polish market and learn about or demonstrate innovative solutions and technologies used in the provision of professional cleaning services.
This year's first edition of CLEANING EXPO assumes a comprehensive presentation of:
Cleaning machinery and appliances
Operating tools
Machinery for maintaining cleaning adjacent areas
Hand-held cleaning equipment and accessories
Equipment and accessories for cleaning façades, roofs and adjacent areas
Chemical agents for cleaning, care and maintenance 
Disinfectants and disinfection equipment
OHS solutions for the cleaning industry
Equipment, accessories and protective equipment for emergency situations (e.g. pandemic)
IT systems for the cleaning industry
Professional cleaning service providers
Development opportunities
It is at Cleaning Expo in Poznań that the integration of the cleaning community will take place, accompanied by the extraordinary energy of face-to-face relationships and the bustle of business talks.
- As organisers, we do our best to ensure the highest professional standard of the event, to present a comprehensive offer for cleaning professionals. We want to guarantee a space for them for fruitful business meetings, access to the latest technologies and the most up-to-date knowledge, as well as the opportunity to develop on the Polish market , emphasises Witold Lipiński, Project Manager of the Cleaning Expo fair.
During the first two days of the Cleaning Expo fair (4-5 October 2022), visitors and exhibitors will have the opportunity to attend planned conferences with topics tailored to the current market situation. The issues we want to address include:
professional cleaning in healthcare facilities;
purchase of services under Public Procurement;
purchase of "cleanliness" for a wide group of recipients adapted to their actual needs;
the specific nature of the purchase of detergents in commercial facilities;
new technologies and digitalisation in the cleaning industry;
The pandemic period has shown how important it is for our safety to use professional cleaning services, therefore the presentations will also show how trade certification for cleaning companies will change so that customers can choose the level of service they expect and at the same time companies know why it is worth investing in development.
- In the coming weeks, we will begin to reveal more details about the events during Cleaning Expo 2022. It will be possible to follow them on an ongoing basis on our website and in social media, where we will also present the exhibitors registered and the new products they are preparing. - Witold Lipiński adds.
The Professional Cleaning Fair - CLEANING EXPO will be held on 4-6 October 2022, on the grounds of the Poznań International Fair - you are welcome!