Leaders of the cleaning industry will show up in Poznań
Although there are still a few months left before CLEANING EXPO 2022, the exhibition space is already well booked for the major companies of the cleaning sector. This promises to be the first high quality edition supported by a rich programme addressing current trends and market needs. Digitisation of cleaning services, computerisation, energy efficiency, ecology, public procurement, certification - these are just some of the thematic challenges that will drive the organisers this year during two conferences planned for the fair.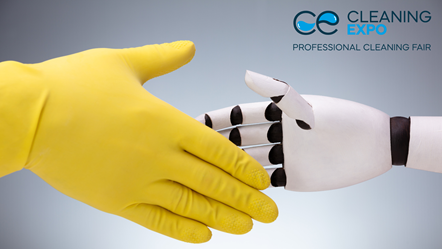 Industry and logistics represent those branches of the Polish economy that are developing extremely dynamically. Both the technical and technology park and working methods are under continuous improvement in the pursuit of efficiency, quality and enhanced safety. In order to be able to provide cleaning services for such demanding clients, companies in the cleaning industry have to rely on professional machines and technical solutions adapted to the needs of the customers, adequately adapted modern, ecological cleaning agents and the increasingly improving and optimised forms of cooperation. Owing to the expansion of the machinery industry, growth of investment in the renovation and finishing industry and investment in the area of storage and transport infrastructure, representatives of the professional cleaning sector cannot complain about a lack of orders and work.
Demand for cleaning services is growing at an astonishing rate. This is due to the increasingly improved preparation, more modern know-how and specialised equipment presented by participants in this market. Particularly today, with huge capital expenditure by real estate developers, maintaining the standard and quality of the properties put into use and protecting them from the spread of viruses and all kinds of impurities requires high-tech cleaning and hygiene companies.

What kind of solutions can be implemented to cope with staff shortages, upward pressure on wages and increasing customer demands? How to optimise and control costs while investing in innovation?Answers to these questions will be available at the Cleaning  Expo fair in Poznań - the first event of this size in Poland aimed at integrating the sector and working together on the future of the professional cleaning industry.
The industry is waiting for "its" fair
Preparations for CLEANING EXPO 2022 can be seen not only among the manufacturers and distributors to present their solutions at the fair. Considerable interest in the offer can also be noticed among consumers. - One could risk saying that there is not a day without an enquiry from future fair visitors about the brands that will be present at this year's fair.

We are delighted to see that more and more enquiries have also been received from abroad,  reveals Witold Lipiński, Project Manager of the CLEANING EXPO fair.
Last year showed that virtual events cannot replace the energy of "live" meetings. This is confirmed by the exhibitors who are enthusiastically planning their activities at this year's fair. The programme will include shows, technology and product presentations and a wide range of market novelties. Visiting professionals can follow with interest the list of exhibitors whose stands will be available from 4 to 6 October 2022 in Poznań. The strong representation of key companies in the innovation sector is the proof of very high demand for meetings of  professionals, such as CLEANING EXPO. The following companies have already registered for this year's edition: OLPE, AP DESIGN, BUZIL POLSKA, ACCUTRADE POLSKA, EMICHEM, ATALIAN POLAND, Z-WATER POLSKA, BRAVOS, HIPROM, ODKURZACZE SEBO, CHEMPIL, ESSITY POLAND, UNGER GERMANY, TEVAN, MICRO SYSTEM DUOTEX, KASTELL, LAVINA POLAND, RADEX.
- Discussions are ongoing with our partners and exhibitors. Everyone is looking forward to meetings and waiting for the fair dedicated to cleaning professionals. The last meeting of this kind took place several years ago, so the entire cleaning sector is waiting for an event where its representatives could integrate and exchange knowledge.

The vast majority of key companies have registered for the first edition of Cleaning Expo - these companies want to show themselves after a long break in exhibition activity, which motivates our team to work intensively. The leaders of the cleaning industry who have already booked their place at the fair are with us. Such a diversified range of exhibits ensures a commercially successful fair, emphasises Lipiński.
Exhibitors will present their latest products and solutions as part of the fair's flagship offer  which includes: cleaning machines and equipment, operating tools, machines for cleaning adjacent areas, manual tools and accessories for cleaning, equipment and accessories for cleaning façades, roofs and adjacent areas, chemicals for cleaning, care and maintenance, disinfectants and equipment, health and safety solutions for the cleaning industry, equipment, accessories and safety measures in emergency situations (e.g. pandemic), IT systems for the cleaning industry, companies providing professional cleaning services.
- During the fair and at  the events planned during the fair, we will discuss the situation in the Polish sector of cleaning services look for solutions on how to provide the Polish economy with stable conditions for further development. In addition, we plan for the exhibition to be complemented by dynamic displays and equipment demonstrations, the manager emphasises.
The meeting of cleaning industry professionals will provide a platform to discuss the challenges faced by companies operating in this market in the context of staff shortages, increasing efficiency through the use of automation in cleaning processes or reluctance to invest in robotisation and modern technologies. It will also be a place to exchange experience regarding the use of digitisation and Internet of Things solutions by Polish and global leaders.
The Professional Cleaning Fair - CLEANING EXPO will be held on 4-6 October 2022, on the grounds of the Poznań International Fair - you are welcome!